The platform
The SOWINE DIGITAL DASHBOARD is a platform designed to gauge the visibility and performance of wine, champagne and spirits brands on social media. It grants industry professionals comprehensive insights into their social media presence. The platform provides real-time assessments of the effectiveness of their digital initiatives, all within a single interface.
Millions of data points collected
Launched in 2018, the technology powering the  SOWINE DIGITAL DASHBOARD collects thousands of data points daily from the leading social media, including Facebook, Instagram, LinkedIn, X (formerly Twitter), TikTok, YouTube and Vivino.
This enables brands and estates subscribed to the SOWINE DIGITAL DASHBOARD to access real-time data whenever they log in. The data come from the social media where the brands and estates are active, as well as a competitive benchmark report.
Nearly 1,000 brands and estates tracked
Nearly 1,000 wine, champagne and spirits brands and estates are monitored daily by the SOWINE DIGITAL DASHBOARD  in the main winegrowing regions and countries: Champagne, Bordeaux, Provence, Loire, Rhône Valley, as well as the United States, Italy, South Africa and Australia.
To subscribe : contact us
Members : log in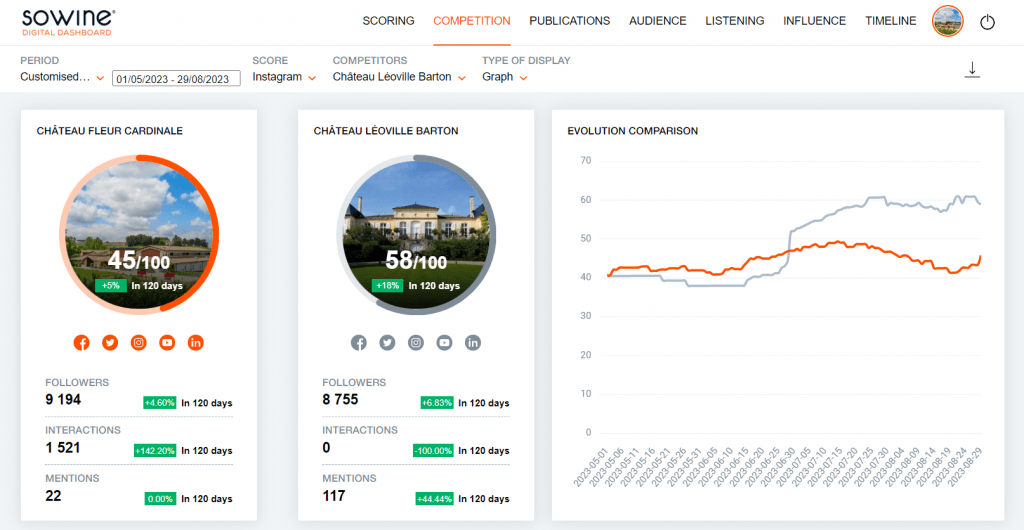 SOWINE DIGITAL DASHBOARD and SOWINE DIGITAL INDEX are the new solutions of the digital platform MyBalthazar acquired by SOWINE in May 2023.